"I created the Mi Jong Lee collection to empower women."

Mi Jong Lee

Founder & Creative Director
"I wanted to create a vertically-integrated fashion business, located in the heart of NYC."
The daughter of an ambassador and one of the first South Korean female entrepreneurs, Mi Jong Lee moved around the world a lot during her youth. She attended Cornell University with the intent of eventually moving back to South Korea and entering the world of academia, which had always been her goal. Yet when she found herself back in South Korea in the 1980s, she felt out of place. As an empowered young woman, Mi Jong had high aspirations, and decided to go back to New York, this time to study fashion at the Parsons School of Design.
Over the past few decades, Mi Jong has worked tirelessly to create her own vertically-integrated fashion business consisting of catalog, wholesale, and retail distribution. It is with a single sewing machine that she had set up in her bedroom that she created her very first designs. In 1982, she opened her first retail store on Madison Avenue, Emmelle Boutique, where she sold her own fashion line along with select pieces from other designers. Looking back now, Mi Jong jokes about the young idealist that she was, and how difficult her first year in business was. Despite the initial hardship, her business became highly successful, growing five-fold to to a 2,000 square foot space. In 2007, Mi Jong launched Emmelle Boutique's wholesale collection, which led her to rethink her entire business structure. Three years later, Mi Jong moved her business to a new location in the Garment District, allowing for the showroom and the production floor to be in the same place. As she rejected the principles of fast fashion, Mi Jong was particularly fond of this new space that she had created, as it brought her high-quality, detail-oriented, custom creations to life.
"I created the Mi Jong Lee collection to empower women."
In 2014, she developed another high-end designer collection, Mi Jong Lee, which she fully launched two years later and has also been very well-received. The Mi Jong Lee collection was created to emphasize individuality; because the brand is vertically structured, any product can be customized. For example, Mi Jong's team can change the color or the sleeve style on any jacket. Her vision was to give women the opportunity to customize any design, thereby empowering them to feel confident to wear exactly what they want. The collection can best be described as both high-end and exclusive, infusing art and fashion into a ready-to-wear women's line. Textiles from artisanal Italian and French mills are brought into Mi Jong's Garment District production space, and every piece is handcrafted using different colors, textures, patterns, and prints to create unique designs and a cohesive line. These are investment collections, which provide consumers with beautiful pieces that they will still wear ten years from now.
"We continue to look ahead."
Mi Jong's business has undergone significant growth over the last 35 years. She has always forged ahead, making every decision rationally, based on predicted outcomes. Looking back, she is particularly proud of a few important milestones, the first one being when Emmelle Boutique added the design and manufacturing elements to its store. Relocating to the Garment District and becoming large enough to handle the entire manufacturing process in-house was also a proud moment. Launching the Mi Jong Lee collection represented yet another success, and Mi Jong is also proud to have collaborated with the Museum of Photography in Paris, as it allowed her to further combine art and fashion.
Mi Jong Lee has also understood the necessity of adopting sustainable processes. A couple of years ago, the business started collaborating with a non-profit organization called Red Dirt Road that was started to help Cambodian women escape oppressive garment factories and enable them to create beautiful silk clothing from the comfort of their own homes. Red Dirt Road also focuses on teaching women how to sew and providing them with a supportive community. Mi Jong Lee donates its fabric remnants to Red Dirt Road to avoid waste, while also supporting the fight against sweatshops.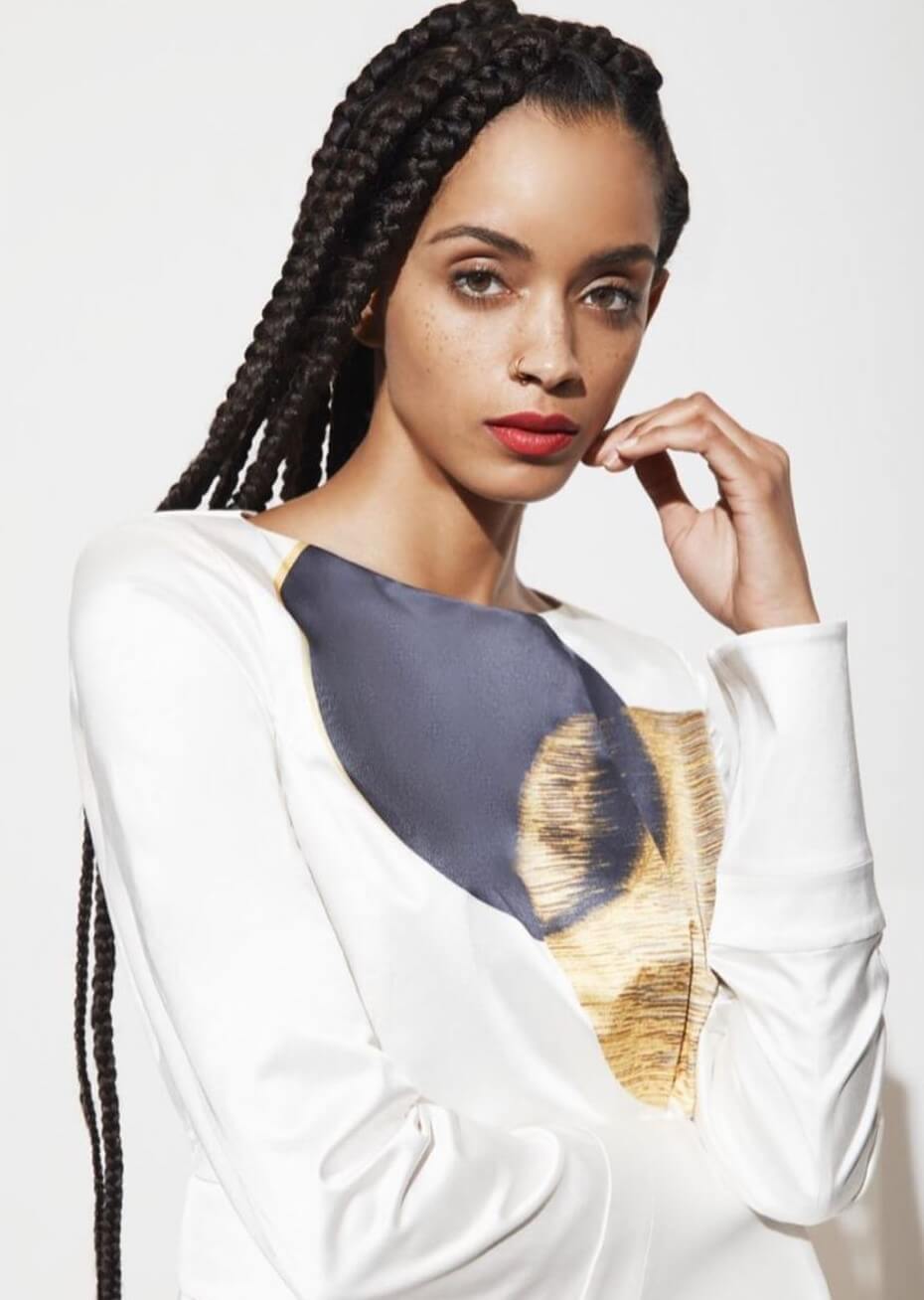 "A positive shift is underway: one that will shine a bright light on emerging designers."
The COVID-19 pandemic has created a whole new set of challenges for Mi Jong. Her collections are occasion-focused, and target women who are looking for something to wear to speeches, board meetings, cocktail hours, or work dinners. With all such events put on hold indefinitely, sales have been severely impacted, and Mi Jong has adapted as best she can, participating in several virtual trunk shows and launching an e-commerce shop.
Mi Jong remains positive about the future, and firmly believes that most individuals will be eager to socialize and dress up again once COVID19 is over. She is excited about both her company's future, and the future of the fashion industry itself. There is growing demand for customization, and Mi Jong Lee is at the forefront of occasion clothing customization. Mi Jong has never felt like a traditional manufacturer, as she has only ever created her own clothing collections; yet she does foresee a change in traditional garment manufacturers' client base. She believes that Garment District factories are going to start working more and more with emerging designers, rather than large established brands. Overall, this is a positive shift that will lead to the democratization of the industry.